On the one-year anniversary of its theatrical release, I have finally gotten around to publishing my review of one of the greatest films ever to be made. Sorry I'm so late, guys! First, I didn't see it until late August. Second, I wanted to see it again before writing this and that didn't happen until Christmas. Third, I have no excuse from then on. :-P
Firstly, the nature of the film and the discussion which I will present will definitely spoil the story for you. If you haven't yet seen the movie for whatever reason (?), then I suggest you do so, and only then can you return to this post. :-)
There is so much to say that I don't know where to start. If I could sum up this film with mere words, I would say dark, deep, gritty, intense, chilling, exciting, frightening, amazing, glorious, principled, shocking.... The list goes on and on.
I'm sure I could talk over the film like all those director's commentaries (seriously), therefore I don't believe I can actually physically write a fully comprehensive review (apologies in advance!). So, I suppose I will instead begin with my usual comments on what I call "watchability" (for the Christian viewer).
No overt sex is found in the film. No nudity is ever present, but we do get a kiss or two, some bikinis, a low cut evening dress, and the worst such scene where a man and woman are seen fumbling with their clothing after being disturbed by Bruce Wayne, apparently having hijacked his bed (still very, very tame). (Have Alfred wash those sheets but good, Bruce!) Language is a very tasteful minimum (yes, you can have an excellent movie without strains of profanity ever other scene). Violence, while somewhat prevalent, is very bloodless and, in the worst scenes, is implied and not shown onscreen.
So, we have nothing to frown about here. Now I'll move onto what I liked about the film.
As any regular peruser of my reviews will note, few things please me more than fight scenes. The more martial arts, the better, and here moviegoers are dished up a pleasing plate of realistic combat sequences. After having studied the Keysi Fighting Method (KFM for short) for the first film,
Batman Begins
, Christian Bale remained a student of the system, and apparently has become quite good at it. Coupled with the fact that Bale is known to be excellent at fight choreography, his knowledge of KFM is apparent. Different from the dark, in-your-face feel of the fight sequences in
Begins
, the scenes are shot wider and the viewer therefore can get a clearer view of the moves. (Watching all the fight scenes on slow-mo is also worthwhile.) While the KFM techniques used were likely adapted for this film as they were somewhat for the first (where they were mostly toned-down--no joke), one can see the influence on screen (mostly the KFM ready stance, hands at head and elbows high). I know little of Keysi and therefore have little to say in the way of recommendation or condemnation, and thus will leave it at that. For the purposes of the film, what is presented to us is a film with several excellent fight scenes. While not as strong of a martial arts film as
Begins
, we still have Batman beating and bashing things his way, and he doesn't feel bad about it.
The production value of
TKD
is almost beyond belief. Really, there is little I can say here that will do it justice. The cinematography is excellent, the script is so amazing that you want to insert quotes in daily conversation (The Joker's lines are particularly memorable, yes, it is true), and Hans Zimmer serves up another amazing score. While worked from a similar set as
Batman Begins
, Zimmer trades the animal feel of that music for an edgier, much more technological, almost machine like feel here. Very fitting for The Joker....
And, of course, the character that had everyone talking, and plenty quoting, was none other than The Joker himself. This fella, as portrayed by the late Heath Ledger under Christopher Nolan's directing, deserves a little discussion. Everything the critics and the average joes alike said is true and more. Heath Ledger has provided what may very well be the best acting job in all of cinematic history, and I say this in all seriousness. (Why so much serioussssssness? :-] ) Slimy, filthy, repulsive and the very essence of evil, Ledger gives a chilling performance of a man who clearly knows what he is doing, is not truly insane, but is so twistedly evil that it's almost shocking your first time seeing the movie. He kills people without thought and literally loves it every minute of it. He also finds great joy, and expends immense energy, in attempting to get others to fall into evil as well. Ledger (as The Joker) is very disturbing for some viewers, and rightfully so, being a guy who loves to cut people's faces with knives (as stated before, all such violence is off-screen). Often forgotten is that almost every other actor in this film did a fantastic job, as well.
While some may claim that the movie was all about The Joker, and others still may say that
The Dark Knight
was a celebration of such evil, they clearly missed something. Director Nolan has given the public one of the most morally-guided films in many years, and while not overtly Christian, we have some real meat to digest here. I felt that the intended meaning of such a dark character was something of a moral statement. It's hard to describe unless you know Nolan's Joker. Either way, it ain't no endorsement.
After leaving the theater, I had the overall feeling of having seen a very dark film, and a very evil Joker. Yes, the film is very, very dark and very bleak, but I would ask people not to avoid it for these reasons (although I would recommend exercising a good amount of caution when considering allowing children to view this film, and I don't say that often). The darkness of the film is indeed one of the things that attracts me to it so much...and I had better define my usage of the word "dark" before continuing. I do not mean the kind of darkness associated with evil, satanic things, rather I use the word "dark" to illustrate the feel of the film in a real-world setting. In other words,
TDK
takes you to the deepest, darkest corner of humanity. In The Joker we see the essence of morality devoid. Behind all of this is a very compelling real-world setting. If you're tired of the silliest movies being hailed as cinematic masterpieces and movies that we all simply
must
go see, then you will appreciate the realism that pervades
The Dark Knight
.
Nolan has successfully removed the silliest elements from the Batman franchise, and those he needed to keep (the cape, the ears, The Joker's clownish persona), he adapted into the most realistic version we could possibly hope for. On the other hand, the most unrealistic aspect of the film would have to be Harvey Dent's face (second would be that The Joker's plans always seem to fall perfectly into place...). Half burned and ghoulish, "Two-Face" has no left cheek (revealing teeth), no eyelid (showing a strangely unharmed eyeball) and a voice that is perfectly normal, which in reality would likely be very different (what with half of his mouth fried off). To be fair, however, he isn't in this state long (it happens near the end of the film, at least in the way of timeline, perhaps only a day or two) so we can at least use the excuse that he might die off soon or something of that sort. Fans of the first film will be elated to see the Tumbler return, will be enthralled with the Batpod, and possibly be a little skeptical when they see the new Batsuit. (But you'll come to love it and drool over it, as I soon did.)
As to morality, this film is certainly something that brings some thoughtful discourse to the table. As the first one, it raises the question of vigilantism (which, in the end, I don't feel either film attempted to actually answer--perhaps a good approach), but this movie also raises deeper, darker questions. Practically the entire film deals with Bruce's own struggle with the evil of his enemy. Should he kill The Joker to stop him? Batman's one rule is: no killing. But The Joker masterfully chips at this seemingly stout wall inside of Batman, with the intent of demolishing his morality, even if it means The Joker's own death in the process.
"...and tonight you're gonna break your one rule," The Joker taunts in the interrogation room, perhaps the movie's second most stressful sequence (the first being the final Harvey, Gordon, Batman scene). "I'm considering it," he replies. (Might I interject that the interrogation room scene also raises the question of torture. Batman beats The Joker to find kidnapped Harvey's whereabouts, and he soon ratchets things up when he learns that Rachel is missing as well. Again, we don't get any direct answers, but I preferred that here. It's up to you to decide if you would accept this kind of behavior in such circumstances or not.) You could see this as more idle threat than revelation of inner turmoil (his own frustrations as he starts to lose the hold of his enemies' fear are seen elsewhere), but to get a clearer picture we must remember that before this Batman (in my own personal interpretation) tries to bring himself to kill The Joker by running him over with the Batpod, but at the last second, yells out, swerves and crashes instead. To spoil it for you all, Batman never breaks his rule, though sorely tested. I personally loved this in his character. A Hollywood dude refusing to break his rules? Very, very laudable. From a biblical standpoint, however, Batman would be justified in killing him. Therefore, Batman's rule is a rule Spencer does not have (which means that if Spencer were a superhero, he'd be a pretty gnarly one!). Still, while I don't agree with it I absolutely loved how it was handled here.
In other scenes we also see him struggle with his own persona ("Batman has no limits," he says early on, a statement he will later come to regret) as well as find himself wrought in turmoil over The Joker's ultimatum (turn yourself in, or I murder innocents). Bruce's initial decision does not play out, and the resulting events are, again, good for discussion. (Did I mention that this movie is also exceedingly manly?) Another time is when Batman uses (hijacks?) some of Lucius Fox's technology to create a city-wide "sonar" scanner to locate The Joker's location. Fox strongly objects (in my opinion, somewhat misguidedly due to the nature of events at that point in time) in a scene I felt was more to bring up the question of violation of privacy/yet another moral issue than anything else. In the end Batman has the machine destroyed, and Fox is apparently satisfied.
The end of the film is also one of the most epic endings ever. It grabbed me, it awed me, it sucked me in. Harvey, once a very good and principled man, is destroyed when he loses what he holds dear. Clearly much weaker than Bruce, he turns into a monster, killing those responsible (if and when they lose the coin toss). You may understand his rage as he kills some really nasty people, but when he crosses the line and is about to execute Commissioner Gordon's little son, you hate him. (The most stressful scene in the film--gah! As crazy and unlikely as it is, they almost had me thinking Batman was dead first time around! :-O I was strapped to my seat and must've had white fingers.) Once Batman defeats Harvey, he reveals his plan to keep hope alive (gosh, that really sounded dorky).
Harvey Dent was the new posterchild for justice, reform, and crime crackdown in the city. People's hopes rose as he began to take down the mob. Sadly, he was defeated by The Joker's evil, and he himself became a part of that evil. Gordon despairs that the murders committed by Harvey will cause people to lose hope. "They must never know what he did," says Batman, deciding to take on Harvey's sin. Only he and Gordon knew of what Harvey had done, and he forces Gordon to accept the plot. "But The Joker cannot win," he says. Now, in the eyes of the people of Gotham, Batman is a killer. He is what he has fought so hard not to be. A murderer. (While Batman's choice to avoid killing was a principled one, his plan to lie to the whole city was a pragmatic one. Neither one is something I would recommend, but that's beside the point.)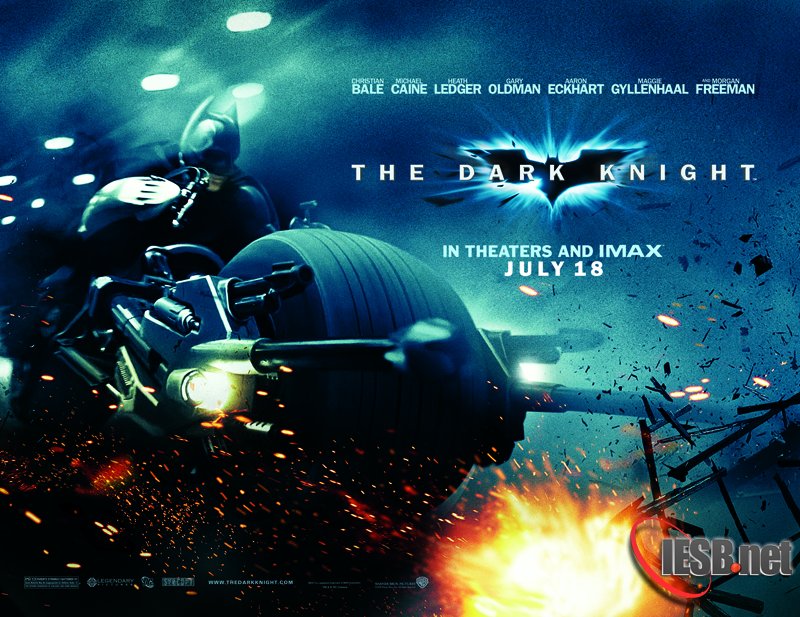 In the final few moments of the film, Zimmer's wondrous score echoes loudly as the police chase after a wounded Batman. He has lost what he also held dear, just as Harvey did (okay, I'll tell you, Rachel died!!!), and clearly must feel like a man having struck bottom. Unlike Dent, he brings something out of it, and sacrifices himself in the process. Gordon tries to explain all of this to his son, who was a witness to it all. "Because he's not a hero. He's a watchful protector. A dark knight."
And this, this story of the dark knight, is one that resonates deeply within me. It is because of this that I recommend it to you today.
Spencer