Friend
Lizzy Brown
has tagged me! She has given me permission to attempt to murder her, but as that would be hard (traveling costs money) and also wrong, I have decided to fulfill the tag. One thing, though, I can't do albums that have "impacted" me so much as my favorites, so this will be more like Spencer's 15 Favorite Albums, k? I also like the idea of using 15 favorite songs...perhaps another post? Man, that'd be hard though...perhaps 25....and perhaps 10 favorite artists as well? Dunno....
What's great is that I just picked 15 and that was it...haha! In no particular order:
Celtic Woman
Celtic Woman
My favorite group of all time, this was CW's first album as well as my first introduction to them. A combination of Celtic and classical, their music is always well done and a step above everyone else's. Traditional Celtic songs like
Isle of Inisfree
,
Siulil a Run
,
Danny Boy
, and
Si Do Mhaimeo I
compliment the classical array with songs such as
Ave Maria
,
Nella Fantasia
, etc. Five amazing ladies bring their talent: Meav, Lisa, Orla, Chloe, and their fiddler, Mairead. We get solo songs with each as well as songs where more than one perform. One indicator of CW's glorious goodness is that CW & co. are about the only artists that make me
want
to listen to their slow songs! A much better version of Enya's
Orinoco Flow
is also a really fun song, but to be honest
One World
and
Someday
kinda creep me out. All in all, a glorious album, one of my forever favorites.
Celtic Woman: A New Journey
Celtic Woman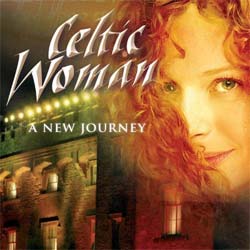 CW's second album, where the fan is treated to the new voice of the honorary Celtic Woman, Hayley Westenra of New Zealand. Very similar to their first album but with perhaps a slightly more fun flavor, Mairead wows us with
Granuaile's Dance
and
The Pacific Slope
, Hayley impresses her new audience (
Laschia Chio Pianga
!), Orla gives a very special, ancient feel to
Newgrange
, and Meav's
Dulaman
is enough to make you want to don Celtic war paint. My personal favorite of this album, one that took some time to defeat
Dulaman
but nevertheless remains, is
The Voice
. Lisa sings as Mairead fiddles, and boy is that an epic tune.
Scarborough Fair
and
Beyond the Sea
are both done better than ever, and
At the Ceili
and
The Spanish Lady
are just as much fun as the first album's
Orinoco Flow
! Feel your Irish pride glow! (To get all of these songs I insist upon the bonus track edition.)
Celtic Woman: A Christmas Celebration
Celtic Woman
Much more traditional/classical than Celtic, this album is somewhat mellow but is a very fitting backdrop for the season. My personal favorite is the almost rock-like
Carol of Bells
by Mairead, which is very different than the rest of the songs.
Ding Dong Merrily on High
is nice and traditionally fun, and amazingly, the song that I have forever hated is one I love here in their medieval-esque rendition of
The Little Drummer Boy
.
Let it Snow
displeased me the first time I heard it, but when I saw the DVD concert Chloe stated before the song that it was different than their usual work but was "lots of fun" and if you watch them have so much fun, I can't not have fun anymore listening to it. A must for Christmas time! (Note: Meav painfully left the group sometime after this CD was recorded.)
Pure
Hayley Westenra
Released before the nigh-angelically-gifted New Zealander worked with Celtic Woman, this album is something along the lines of her international break-out. Filled with a mix of always beautiful songs, Hayley has a penchant for grabbing your emotions and connecting with her audience. Highlights include
Pokarekare Ana
,
Never Say Goodbye
,
Across the Universe of Time
,
Heaven
,
Wuthering Heights
, and, of course, the painful tearjerker
Who Painted the Moon Black
?, which is one of my favorite songs of all time. A hard thing about Hayley is that, as she is such an international success several different albums are released, often amounting to US, UK, NZ, Japan, and International editions. This edition is the US edition (somewhat stripped down).
Odyssey
Hayley Westenra
Hayley's second album, her voice is slightly matured but nothing is diminished. Again we get a great package of great songs done by the even greater Hayley, and had to get the Japanese edition to get
The Mummer's Dance
and the jaw-dropping
Bachianas Brasileiras
.
My Heart Belongs to You
is also one of her best songs ever.
Treasure
Hayley Westenra
Released under the title
Celtic Treasure
in the US, my edition is the International edition, and thus it provides a very interesting jewel case.
Let Me Lie
,
Santa Lucia
,
Sonny
, and
Summer Fly
are all spectacular, and
Summer Rain
is another one of my all-time favorite songs. However, if you do want her
The Water is Wide
you can't get it with the international edition. A very good, pretty, calming CD all around.
Hayley Sings Japanese Songs
Hayley Westenra
I had to go all the way to a supplier in Tokyo to get this album, and I paid over $40, too. My thoughts? More than worth it! Songs from Japan, often sung in Japanese--yes, apparently Hayley can sing in Japanese!--make up this CD, and it's well worth the westerner's trouble at tracking it down.
Nada Sousou
is the song I initially tracked this album down for (yes, I found a seller in Japan and chocked up over $40 dollars for one song), and
I Believe
, and
Tsubasa Wo Kudasai
are all great.
Shiroi Iro Ha Koibito no Iro
is my favorite, and we get both English and Japanese for this one. I prefer the Japanese edition. Don't miss out, peeps!
Raining Up
Mairead Nesbitt
A solo album from Celtic Woman's energetic fiddler, this album is more modernized Celtic than anything. If you're a traditionalist then you probably won't like this one, and it isn't very classical either. However, someone like me seriously enjoys this one. Her
Raining Up
,
Captain H
, and
Tri Fhidili (Smash the Windows)/Prestons
and
Finan's Isle Suite: The Butterfly
are all pumping, modern Celtic. The only song she's ever released that she has actually vocalized is the very strange
An Raibh Tu Ag an Gcarraig?
, replete with electronic voice manipulations, electric noises, and wood creaks. Very strange, I must admit but I love it because of it, however it may not please everyone. The best song of all, in my opinion her best ever and one of my top songs of eternity, is
Skidoo
. I can only describe it as Techno-Celtic, and it's amazingness is hard to describe to those who haven't heard it. It's a bit techno, almost rock-like, and very beat-y/pumping. Makes you have difficulty in choosing whether to dance, fiddle, or fight some imaginary foe. If you like this kind of music, there is nothing better than
Skidoo
!
Walking in the Air
Chloe Agnew
What some may find boring is what pleased this very picky guy who usually insists upon epic music. A soft, almost sleepy classical mix, Chloe does an amazing job at communicating to her audience with her beautiful voice. Her best is
Vivaldi's Rain
, which is better than the CW ANJ version, but her
Walking in the Air
was a little bit better in the CW debut album in my opinion. (For clarity's sake, no this is not the crazy Kerli song!)
Going Home
is very nice, as well as
Brahm's Lullabye
,
Winter's Light
,
To Where You Are
,
Sigma
and the ever-present favorite,
Jesu Joy of Man's Desiring
. I recommend yet another CW-affiliated CD, what can I say?
Unearthed
E.S. Posthumus
Largely undiscovered, the amazing work of two German brothers provides a fan like me with some of the most epic music you could ever ask for. Often used for movie trailers and the like (
Spider-Man
trailer, NBC football,
Cold Case
theme), the soundtrack feel to E.S. Posthumus's music is combined with a very...shall I say ethnic flavor? Each song is titled after an ancient city, and we are treated to the correct feel with, say bagpipes or Middle Eastern sounds.
Nara
is very good (this is what the show
Cold Case
uses), as well as
Nineveh
and
Tikal
.
Menouthis
is utterly amazing and is nothing short of battle music (the ending in particular is some music good enough to die to), and even better is the E-P-I-C song
Pompeii
. If you like soundtracks, try this one out, or even if you just like epic music. It gets me in touch with my inner warrior, you could say....
If I Had One Chance to Tell You Something
Rebecca St. James
While I don't love all of her songs, my purchase of this CD was nothing short of an unabashed attempt to get what you all probably know by now to be one of the best songs to ever grace human ears,
God Help Me
(it is hard rock, I should tell the possibly displeasured). Other good ones are
Alive
,
Lest I Forget
,
Thank You
(somewhat hip-hop),
Beautiful Stranger
, and
You Are Loved
. What's best, is her worldview: relentlessly Christian!
Batman Begins
Hans Zimmer and James Newton Howard
Dark, gritty, intense, elemental, animal, suggested. What amounts to some of the best soundtrack sounds ever recorded, Zimmer outdoes even himself as he provides us with a fitting yet possible stand-alone score. The absolute best is
Molossus
, which is the Tumbler chase scene...yeah, take it from me, that's why you probably shouldn't drive and play this at the same time....
Antrozous
is also amazingly epic, and
Myotus
,
Vespertilio
,
Barbastella
and
Macrotus
all have good parts. Unfortunately the good music found in some scenes, such as the Arkham and train fight scenes is not to be found! (But I have heard that there is a bonus expanded edition: is this true? If there is one, get outta my way....) Nonetheless, an amazing soundtrack that should never, ever be ignored. (Spencer was also very pleased when he discovered that the track names are bat genera. Ingenious!)
The Dark Knight
Hans Zimmer and James Newton Howard
To graduate to this similar, yet very different soundtrack, one must first hear
Batman Begins
. When I watched
The Dark Knight
I thought the soundtrack was largely a remix of
Batman Begins
, but upon further dissection the listener is treated, and treated well. TDK drops the animal quality of BB and replaces it with an electrical, machine-like element. The screeching track
Why So Serious?
is hard to describe (basically, just use very word you might use for the Joker and you will describe it well--very skilled on the part of Zimmer), and other good ones include
And I Thought My Jokes Were Bad
,
Agent of Chaos
, and
Introduce A Little Anarcy
. The beginning and ending of
Aggressive Expansion
is epic and warlike, while Watch the World Burn is both beautiful and almost stressful at the same time (it's the scene with Two-Face and Gordon's family, of course it's stressful!). In
I'm Not A Hero
we get some of the music to a part in BB ("They will have to be large orders, to avoid suspicion." "How large?") One of the most epic and yet emotional songs I have ever heard in my entire life has to be
Like A Dog Chasing Cars
, and if you don't buy the whole soundtrack, at least get the MP3 of this. Utterly amazing. Some tracks are strange as in they stop and start so it makes it a little hard to listen to, but this is a result of the quick, edgy editing rather than anything detrimental on Zimmer's or Howard's part. You
have
to hear this one! (I do know that TDK has an expanded edition, but don't have it yet.)
The Last Samurai
Hans Zimmer
Another great one from Hans Zimmer. I had a few issues with the movie (primarily history and worldview slant), but this score is both epic and beautiful. We get good battle music with
Spectres in the Fog
,
Ronin
,
Red Warrior
(which actually has samurai shouts--EPIIIICCC!!!!!), and
The Way of the Sword
. We also get the good Tokyo arrival scene in
Idyll's End
, as well as lots of Asian-influenced music that is very calming. Very, very good!
Last of the Mohicans
Trevor Jones and Randy Edelman
Not all of this score is spectacular, but some of it sure is. The Theme,
Elk Hunt
, and
The Kiss
are all very good (
Elk Hunt
is also impressive), and
Promentory
is epic as well, although sadly missing a portion of that scene in the film.
The Courier
is interesting, and Clannad's
I Will Find You
is great. A very, very good soundtrack over all with some songs you simply cannot miss.
Phew. That was long!
Now, with relentless brutality, I hath tagged ALL of my followers. That's right. If you're one of my followers, then you must fulfill this tag. Buhahahahaaa!!! :-D
Spencer